How to Achieve Global Reach with Our Wealthy Female Coaches Membership
Step into the limelight and elevate your coaching business with the Wealthy Female Coaches Premium Membership!
Promote To a Vast Community of Female Coaches on Facebook and Beyond!
Dive into our online haven where we've already gathered a rapidly expanding community of over 18,400+ dedicated coaches. We are steadfastly committed to assembling your ideal target audience, ensuring that every day, more potential clients witness your unique offerings.
Don't miss this golden opportunity to showcase your services and connect deeply within a community tailored for success. Join us and watch your influence grow exponentially in the coaching world!
---
🌸 Are You Ready to Take Your Business to the Next Level?
You've poured your heart into your coaching business, and it's time to shine on a broader platform. We understand that in the world of coaching, standing out can be a challenge. But what if you had an edge, a powerful community behind you, ready to propel you to greatness?
---
🌟 Discover the Power of Community
When you step into our Wealthy Female Coaches Premium Membership, you're not just signing up for a service; you're joining a powerful community of over 18,400+ coaches. Imagine promoting your unique offerings to this vast, engaged audience on Facebook and beyond. And the best part? We're growing every single day, meticulously curating a group that aligns with your target audience.
---
💼 Designed Specifically for Ambitious Women Like You
Every aspect of our premium membership has been crafted with you in mind. We know the aspirations, challenges, and dreams of women entrepreneurs from South Africa trying to make a global mark. And we're here to support you every step of the way.
---
What You Get With This Membership
🚀 Amplify Your Reach Everyday
Make stand-alone promotional posts daily, directing traffic to your platforms – from your group and website to your captivating lead magnets and exclusive offers.
🎙️ Host and Shine
Directly engage our coaching niche through live events. From masterclasses and workshops to multi-day events, the stage is yours!
🌍 Global Connections Await
Forge meaningful relationships, connect, and seal deals with high-quality leads from top-tier countries like the USA, Europe, Australia, and Canada.
🔗 Expand Your Tribe
Share your group links and personally invite members, letting your community flourish organically.
📲 Boost Your Digital Presence
Invite intrigued members to join you on various social platforms – Instagram, Facebook, LinkedIn, TikTok, YouTube, and more. Grow your followers and solidify your online reputation.
💌 Build A Valuable Email List
Attract potential clients by offering tempting freebies, lead magnets, and downloads. Transform every interaction into an opportunity to expand your email clientele.
⏰ Instant Posting Privileges
Your time is valuable. Enjoy pre-approval posting rights, ensuring your posts go live instantly, without any waiting period or admin approvals.
💡 Exclusive Insider Knowledge
Be a part of an elite group where weekly doses of actionable tips, hacks, and strategies are shared, designed to help you scale your group to a staggering 10,000 members and elevate your coaching sales.
---
🎁 Bonuses Galore
Kickstart meaningful conversations with a social engagement calendar, featuring 365 post prompts. Plus, immerse yourself in 1,000 success quotes and gain access to a handpicked list of 50 groups where you can freely market your offerings.
🎁 Exclusive Perks Await
Not only do you get unmatched exposure, but you'll also be treated to weekly tips, strategies, and a trove of resources like our social engagement calendar. Let us arm you with the tools to initiate conversations, connect authentically, and inspire with success quotes.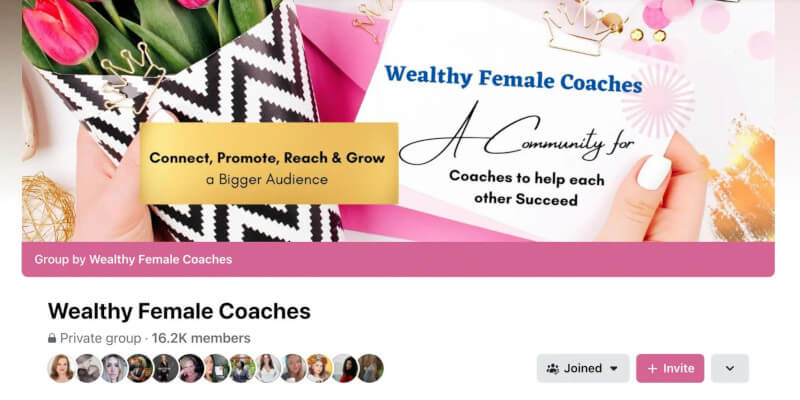 ---
Why Should You Join Our Premium Membership?
Experience Immediate Impact & Influence
Why start from scratch when a vast audience is already awaiting your expertise? Bypass the lengthy process of building your audience from the ground up. We've meticulously constructed a platform for you, saving you precious months or even years. Let your voice resonate powerfully within a community tailor-made for your niche.
Accelerate Your Earnings and Growth
Unlock the potential of connecting with high-ticket clients right within our community. With a thriving audience of over 16,000 coaches eager to evolve and learn, your expertise is precisely what they're seeking. Leverage this golden opportunity, and watch as your journey to success takes a quantum leap.
Complimentary Strategy Sessions are On Offer
Upon joining, benefit from a personalized strategy call with our group's admin. We're not just offering a membership; we're partnering in your growth. Receive expert insights on the most effective ways to cultivate a group brimming with your target audience, mirroring our very own! Together, we'll chart out a trajectory ensuring your coaching business soars to unparalleled success.
---
Why Our Online Membership Community Stands Above the Rest
🌟 The Power of Collective Growth: Venturing alone in business can feel like sailing through uncharted waters. Our community acts as a lighthouse, guiding you toward success. Here, you're not just a member; you're part of a collective force aiming for mutual growth. Every success story, and every hurdle overcome, enriches the community's collective wisdom, providing you with invaluable insights that are near-impossible to gain solo.
🤝 Unlock Networking Goldmines: Building meaningful connections is the cornerstone of a thriving business. Our membership grants you instant access to a network of professionals who've faced similar challenges and are brimming with experiences and solutions. This isn't just a network; it's a melting pot of opportunities.
💡 Continuous Learning & Innovation: The business landscape evolves rapidly. Our community ensures you're always ahead of the curve. Instead of getting overwhelmed by constant change, you're informed, prepared, and excited for what's next. Continuous learning becomes a part of your routine, with the latest strategies, tips, and trends available at your fingertips.
🚀 Amplified Reach with Less Effort: Why shout into the void when you can directly speak to a receptive audience? Our community ensures your voice isn't just heard but celebrated. You don't have to start from ground zero; you're instantly propelled into a space filled with potential clients and partners.
🌱 A Support System Like No Other: In moments of doubt or challenge, know that you have a community rooting for you. This isn't just about business; it's about shared aspirations, dreams, and the journey of growth. We're here to uplift, support, and celebrate every milestone with you.
---
Our Package Selections
Whether you're seeking long-term engagement or a flexible monthly commitment, our pricing options are designed with your success in mind. Explore the features of each plan and select the one that aligns perfectly with your vision:
| | Yearly | Monthly |
| --- | --- | --- |
| Price | $99 / Year | $29 / Month |
| Daily Promotional Posts | ✓ | ✓ |
| Stream Daily Live Videos | ✓ | ✓ |
| 50 Engagement Post Templates | ✓ | ✓ |
| Private FB Community for Members Only | ✓ | ✓ |
| Get Featured in Our Exclusive Spotlight for Global Experts | ✓ | ✓ |
| Billing Details | Billed Once a Year (and save $249 off the monthly bill) | Subscribe |
Ready to leap into new horizons? Signing up is easy. Whether you're using a credit card or PayPal, in just a few clicks, you'll be part of an elite group of coaches destined for global success. Secure your spot now and watch as doors you never even knew existed start to open up for you.
---
Hear From Our Thriving Members!
Priyanka Nair:
"Joining the Wealthy Female Coaches Premium Membership transformed my online presence. I was struggling to get my voice heard, but within weeks of joining, I noticed a significant boost in my engagement and reach. The community's support is unmatched – it feels like having a dedicated team cheering for your success!"
Aisha Abubakar:
"This membership is more than just a platform; it's a lifeline. The community support is phenomenal. Whenever I faced a challenge or needed advice, there was always someone ready to help. My online exposure skyrocketed, and my business has never been better."
Rosa Martinez:
"As a coach, finding the right audience online felt like searching for a needle in a haystack. But this membership made it effortless! Not only did my business gain unprecedented visibility, but the sense of camaraderie within the community is heartwarming."
Li Wei:
"I was initially hesitant to invest in another online membership. But I'm so glad I did! The results have been astounding. The community's constant support, combined with the increased exposure, has made me a firm believer in the power of collective growth."
Clara Johnson:
"There's magic in this community. Beyond the undeniable boost in online exposure, it's the warmth, support, and genuine desire to see each other succeed that sets this membership apart. It's truly a game-changer."
Fatima Zahra:
"From increased visibility to learning from the best in the industry, this membership offers it all. The community's support has been instrumental in shaping my online strategies and seeing tangible results. I couldn't recommend it enough!"
---
South African entrepreneurs, the digital landscape offers unparalleled opportunities, and there's no better time than now to harness its power. The Wealthy Female Coaches Premium Membership stands as the best online business membership to give your business more exposure. You might be wondering, how to promote your business on social media effectively or seeking creative ways to promote your business on social media. Look no further! With our membership, we've streamlined the process, ensuring you tap into an engaged and thriving community.
But it doesn't stop at global reach. Every local business thrives on its roots, and understanding how to promote your business locally is essential. With our diverse community, not only do you get a global audience, but you also gain invaluable insights from peers who've achieved success in local markets. And if you're about to venture into the vast world of social media for the first time, our membership guides you on how to introduce your new business on social media with maximum impact.
This fantastic promotional price is a golden ticket for those ready to transform their online presence. Remember, this is a monthly plan, offering you flexibility with the freedom to cancel anytime. While we stand by the value we offer, please note our current no-refund policy.